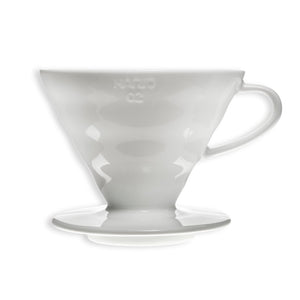 Hario V60-02
Ceramic
Sale price Price $22.00 Regular price Unit price / per
Got some freshly roasted coffee and no way to brew? Check the V60 out! It's classic, it's fancy and it's our favourite way to brew a cup!
There's beauty in simplicity, and the Hario Ceramic pour over is proof. An upgrade from the old Melitta cone, this ceramic version not only retains heat better, it is elegant enough to break out at the fanciest of dinner parties (you know, the ones with plates you don't throw away!) It's also a great option when you don't want to brew an entire pot. Don't be fooled though: this method affords you optimal control over the process, allowing you the ability to fine-tune your brew to your tastes, and the end result is anything but simple.
Need some help dialing this bad boy in? Check our brew guides!