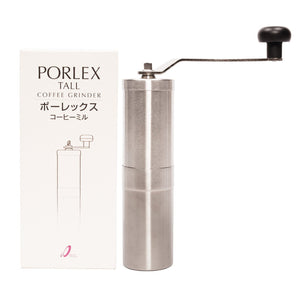 Porlex Tall
Coffee Grinder - II
Sale price Price $66.00 Regular price Unit price / per
With its newly designed burr set, the Porlex II can grind beans easier, faster, and more evenly. This results in less fines, less boulders, and more even grounds. Do you know what they say about even grounds? More delicious coffee in your mouth! Compared to the Porlex I, this grinder can produce roughly 1.3 times more coffee with the same number of rotations. Wow! There is no need to worry about the top of the grinder rolling away like a boulder in Indiana Jones - Porlex has redesigned the adjustment nut so that it stands up proud and tall on its own! With the new burr, the per click adjustment changes an average of 37 microns - meaning you can further dial in your Hario V60 recipe. Made in Japan with higher quality materials than its predecessor, the Porlex II punches above its weight - scaring its rivals back to their grinder travel pouch caves.
Your favourite Porlex grinder just got way better. So gift your Porlex I to your cousin or co-worker, and pick-up the new and improved Porlex II hand grinder in the battle for portable coffee supremacy.
New and Improved Ceramic Burr Set
Made of Higher Quality Materials than Porlex I
Made in Porlex's Kirishima City, Kagoshima Factory in Japan
Grinds Faster, Easier, and More Evenly than Porlex I
Ceramic Burrs do not Absorb Water, Smells, and Will Not Rust
Each Click Will Make an approximately 37 Micron Change
Slim, simple design is very portable and will fit in an AeroPress
30g Approximate Capacity
Detailed Instructions Included
Instructions for Use:
Adjust Burr to Appropriate Grind Setting eg. Pour-Over = 9-11 Clicks
Weigh Coffee (~30g capacity)
Remove Lid and Add Coffee
Ensure Grinds Cup is Secure
Attach Handle Until it Reaches the Base of the Shaft
Hold the Grinder Body with One Hand and the Handle with the Other
Rotate Clockwise
There Will be Resistance Throughout Grinding
Empty Grinds Cup Full of Fresh Ground Coffee into Desired Brew Method
Make Delicious Coffee
Enjoy Freshly Made Delicious Coffee
Clean Grinder Regularly
Have an AeroPress? Like to have fresh ground, amazing coffee when you travel? This lovely little industrial looking grinder fits perfectly inside the AeroPress tube.
Got the grinder? Well all that's left is to grab some freshly roasted coffee!