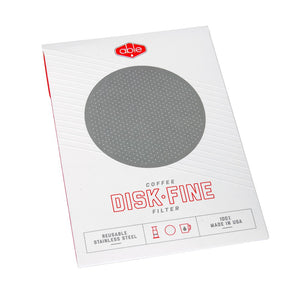 Able Disk
Fine Filter
Sale price Price $15.00 Regular price Unit price / per
Already have an Aeropress? Got some freshly roasted coffee?
The Disk Coffee Filter is a reusable filter designed to be used with the Aeropress. This allows more oils and a fuller bodied cup of coffee when used with the Aeropress. The Disk eliminates the need for paper filters, which is especially convenient when travelling.
The Disk Fine produces a very sweet clean cup of coffee with very little fines to none at all. It is thinner (1/3 of the Standard) and should be handled with care as bending/damage is more likely.
Stainless Steel
Fits AeroPress®
100% Made in USA by Able Brewing
Packaging: 100% post-consumer recycled FSC certified